Even if you take a break from formal homeschooling during the holidays, it's still easy to help your kids keep learning! How about this fun science project/experiment?
Important Note: At the bottom of this article, you'll find a Christmas Giveaway! We are happy to be participating in a giveaway of $500 in PayPal cash for TWO families this Christmas! After you read all about how to make Borax crystal snowflakes, we hope you'll enter the giveaway.
Have you ever heard of making snowflakes out of Borax and pipe cleaners? If not (or even if you have!), keep reading to find out how. It's lots of fun, and it's a great way to spend some time being creative with your kiddos and learning something fun at the same time!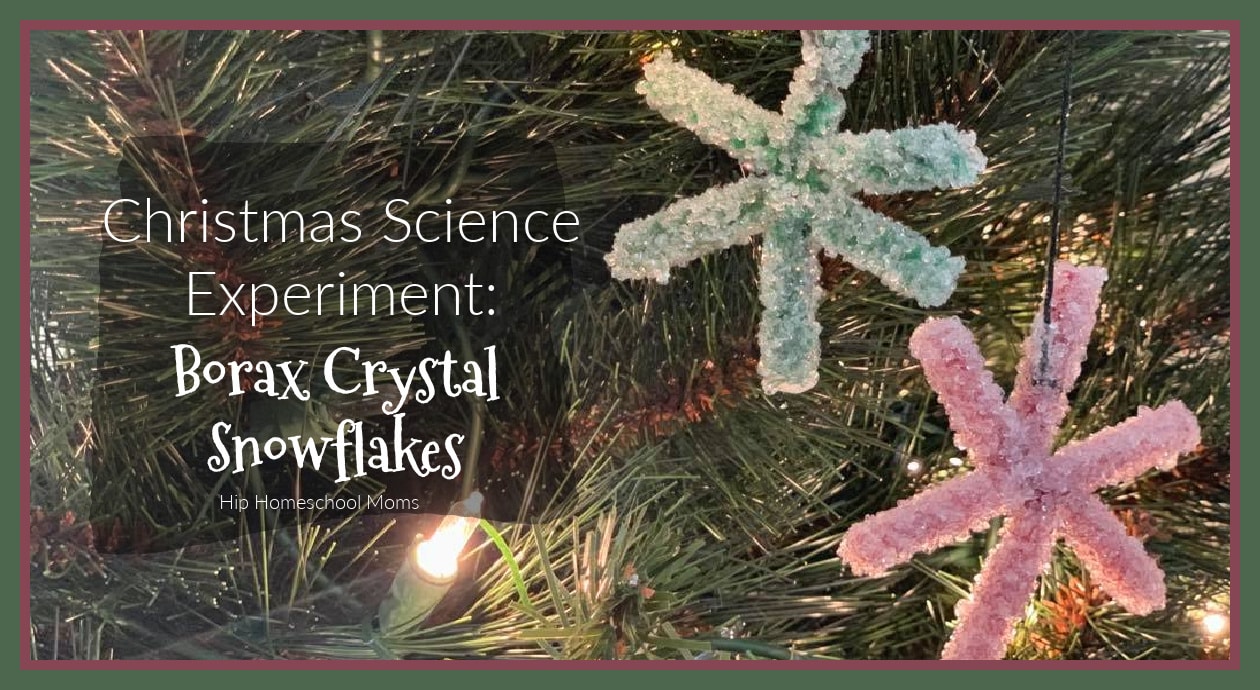 Christmas Science Experiment: Borax Crystal Snowflakes
This Christmas science experiment takes a little while, but it's worth it to wow your kids with how Borax makes crystals out of pipe cleaner ornaments. It's a little like how the Word of God makes us more sparkly—if we stick with it!
Materials
Preparation
Shape various Christmas ornaments using pipe cleaners. For example, shape pipe cleaners into a stocking, star, or cross. Note: The shapes must fit into the jars.
Tie a string to the top of the ornament.
Fill jars with hot water.
Add three tablespoons of Borax per cup of water that you added to each jar. Mix it well. (For example, if you use 3 cups of hot water in your jar, you'll need 9 tablespoons of Borax for that jar.)
Lower the string so that the ornament is completely covered. Then tie the string around the top of the open jar to keep it in place. Note: You'll want to be sure the ornament isn't touching the edges of the jar.
Leave the ornaments in the water overnight.
The next day, the Borax will have crystallized in the water and become attached to the pipe cleaner ornaments.
Explanation
Borax is an example of a crystal. Salt, sugar, and Epsom salts are other examples. Hot water molecules move away from each other. When you add Borax, the molecules make room for borax crystals to dissolve. But a point of saturation can be reached, meaning there will be some remaining crystals. As this water cools, the water molecules move closer together again. Crystals begin to form and build around another item in the water, such as the pipe cleaner. This is especially true as the water evaporates.
Discussion
The Borax crystals are a little like God's Word. We can read the Bible, and it doesn't seem to make much difference in our lives—not right away. But the Word of God sinks in slowly. We have to have patience. Our walk with the Lord is life-long. Philippians 1:6 says you should be "confident of this, that he who began a good work in you will carry it on to completion until the day of Christ Jesus." Someday we can be assured of being complete–like beautiful snowflakes–if we read God's Word regularly. Even though we might look like plain old pipe cleaners while we're reading at first!
Christmas Giveaway
2020 has been quite a year! It's definitely a year we won't forget! But I'm thankful we've made it to the holiday season, and my prayer is that we can take some time for gratitude, togetherness, and celebration. To celebrate the holiday season (and the fact that 2020 is coming to an end!), we've teamed up with some of our favorite bloggers for the 7th annual Christmas Blessings Giveaway with hopes of making this holiday season memorable (in a good way) by giving two families $500 in PayPal cash.
While we wish we could bless many more families, we were able to come up with a big prize for TWO families – $500 each (delivered via Paypal) – that we pray will make a big difference in their lives this Christmas season – whether it's to fulfill their kids' Christmas wishes, pay off some bills, or to help build some savings, our prayer is that it helps to lessen any financial burden and/or fills a specific need, or simply brightens the winners' day.
There are lots of entry options in the Rafflecopter form below – the more you enter, the better your chance of winning! I know it can seem tedious and time consuming to go through all the entries, but isn't a chance at $500 worth it? I think it is! Plus, all of these amazing bloggers donated their own money toward the cash prizes, so this giveaway wouldn't be possible without them. I hope you'll take the time to check out each one. Who knows, maybe you will find some new blogs to follow.
The giveaway will run from Monday, November 16th through Wednesday, November 25th (ends at 11:59pm EST). The winner will be notified by email shortly after the giveaway ends and will have 48 hours to respond to claim the prize or another winner will be drawn. You must have a Paypal account to win. By entering this giveaway, you agree to be added to the email lists of the participating bloggers. Please be sure to read the Rafflecopter terms and conditions upon entering.
You May Also Like
Cool Rubber Egg Science Experiment
Edible Cell Project: Chocolate Chip Cookie Science
Easy and Fun Electricity Science Experiment
Ben Franklin Easy Electricity Science Experiment