Last week I shared a recipe for a foundational crockpot chicken recipe that can be used for other quick future meals or dishes. Today I'll share with you a recipe for a simple chicken salad that has sweet caramelized onions and toasted walnuts.
To begin, you'll need 2 cups of your previously cooked chicken that you froze. So when you are going to make this, take the chicken out in the morning or the night before to thaw.
Dice 1 cup of sweet onion (I used Vidalia) and sauté them in a skillet with 2 tablespoons of butter. Let these cook low and slow until they are beautifully golden and soft.
Meanwhile, chop up about 1/3 – 1/2 cup of walnuts.
When the onions are just about done, toss the walnuts into the skillet with the onions and let them cook about 2 minutes.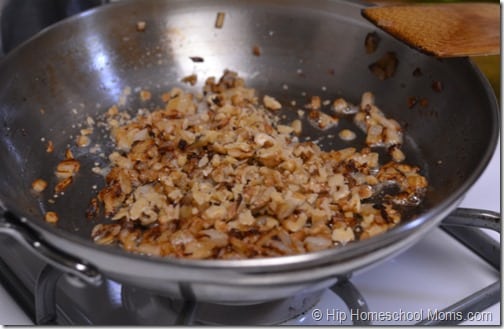 In a bowl, combine 1 cup of mayonnaise, along with a half teaspoon each of salt and pepper. Add in the juice of half a lime. I also add 1 teaspoon of cilantro. If you are one of those that are genetically wired that cilantro tastes like soap (really!) feel free to leave it out. Whisk those all together.
Now add in your chicken. If there is excessive liquid in your thawed chicken, drain it out first.
Add in your onions and walnuts.
For the final touch, slice up the green portions of a scallion. Toss them in and stir it all together.
Serve on a roll or bread with your favorite lettuce. I used some torn romaine here. Enjoy!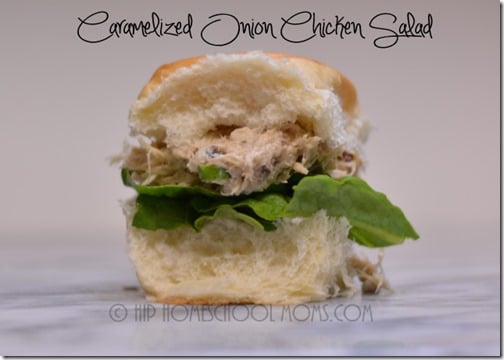 Caramelized Onion Chicken Salad Sandwiches
Recipe by Constance Smith (TheFoodieArmyWife.com) and brought to you by HipHomeschoolMoms.com
Ingredients
1 cup diced sweet onion (like Vidalia)
2 Tb butter
⅓ - ½ c walnuts, chopped
1 c mayonnaise
½ tsp salt
½ tsp pepper
1 tsp cilantro
juice of half a lime
2 cups cooked chicken
1 scallion
rolls or bread
torn lettuce
Instructions
In a skillet, saute the onion in the butter on low heat until they are beautifully browned and soft. When they are nearly done, toss in the walnuts and let them cook together the last couple minutes. In a bowl, whisk together the mayo, salt, pepper, cilantro and lime juice. Stir in the chicken, onion and walnuts. Slice the scallion (green portion) and stir into the mixture.
Serve on rolls or bread with torn lettuce. Enjoy!
Constance has been an Army Wife for 22+ years and met her husband during chapel service in Basic Training as a soldier herself. She is the mother of 3 nearly-grown kids and now lives in Alabama, having moved there this summer from Alaska. She has been eclectically homeschooling for 13 years and has two homeschool graduates and a high school student. She is an Organic Christian, loves studying scripture, and exploring God's creation. She's adventurous – loves hiking, hunting and other outdoor activities. Constance has maintained a food-related website since 1998, moved to blogging in 2006, and has had her content published in several local and national publications. On her website, The Foodie Army Wife she specializes in teaching others to create great meals and goodies for their loved ones using real ingredients and easy to follow recipes with step by step instructions and photos. She encourages families to cook together and enjoy family meals as often as possible.
You can connect with Constance at: Twitter | Facebook | Instagram | Pinterest | Google +