Back to School Giveaway – Science, Math, and Logic Tuesday {closed}
(Please be patient as this page loads; there are a lot of giveaways below!)
Looking for a list of all of our sponsors (and a list of all of the daily giveaways)? Go to the sponsor page!
Don't miss a single giveaway! See all of Tuesday's giveaways here.
Science:
A Journey Through Learning
Our Exploring Creation with Botany lapbook has one full folder of beautiful mini-booklets for EACH chapter in Mrs. Fulbright's book. It is very thorough and meaty and covers much of what Mrs. Fulbright's book covers. It even has a built-in lesson plan that tells you the pages to read each day. At the top of each mini-booklet page are directions concerning the construction of your mini-booklet, pages to read from the Fulbright book (highlighted in bold text), and what your student will record in the mini-booklet after reading to show what is learned. A small key is also here to show you where to glue each mini-booklet into the folders.
Winner will receive one copy of the Apologia Exploring Creation with Botany Lapbook.
Academia Celestia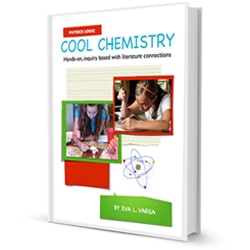 Earth Logic: Our Dynamic Earth; Physics Logic: Cool Chemistry; and Life Logic: Ecology Explorations are 10 week multidisciplinary, hands-on curricula that incorporates scientific inquiry. Background knowledge, notebooking pages, and suggestions for extension activities are included.
Winner will receive 1 copy of your choice: Earth Logic: Our Dynamic Earth; Physics Logic: Cool Chemistry; or Life Logic: Ecology Explorations.
Enchanted Homeschooling Mom
Weather Detective, A Year Long Science Curriculum! In Weather Detective your children will learn their way around the scientific basics of weather. This curriculum will take your Weather Detective through the scientific basics of weather through discussion, hands-on experiments, and the other educational methods to learn about the inner workings of the weather. Topics that are covered in the Weather Detective science curriculum range from the atmosphere to the climate to clouds to weather forecasting to the water cycle and much, much more.
Winner will receive 1 digital download of the Weather Detective.
Red Wagon Tutorials
Specializing in Online Live-Feed, Online Recorded, and DVD Science Classes. Instructed by Steve Rosenoff, Endorsement by Dr. Jay L. Wile. Science course options include General Science, Physical Science, Honors Biology, Marine Biology, Honors Chemistry, Advanced Biology (Human Anatomy), and Honors Physics.
Winner will receive choice of one DVD course.
The 101 Series
Biology 101 is a complete overview of the world of biology from a Biblical perspective. These 4 DVDs are full of accurate and fascinating information supported by hundreds of captivating visuals and graphics. Included on the fourth disc is a printable (PDF) guidebook with quizzes covering the material presented in each segment and a one-year highschool course booklet. The DVDs contain nine individual segments ranging from 30-45 minutes each.
Winner will receive one copy of the Biology 101 DVD curriculum.
Math:
Compass Classroom
Economics for Everybody – Economics: it's everywhere, influencing everything — and so rarely understood. If you're confused about teaching economics to your church or family, or are just looking for a great homeschool economics curriculum, this is the place to begin. It not only explains how economics works, it shows how economic freedom is directly related to religious freedom; it explores the differences between socialism, interventionism, and free markets; and it explains how stewardship is at the heart of a healthy economic system.
Winner will receive one download of Economics for Everybody.
Educational Insights
Build math facts fast while you race to beat your best time with Multiplication Slam™! Features five fun games that reinforce important multiplication concepts for numbers 1–9. Read the problem, scan the possible answers, and slam the one that's correct! Missed problems are recycled until they are answered correctly, ensuring comprehension and mastery. Increasingly difficult levels, flashing lights, and fun sound effects keep kids engaged, learning and slammin' for more! Grades 3+.
Winner will receive one Multiplication Slam game.
Maths on Screen
Maths on Screen DVD "Geometry in the Real World" Perfect for students aged 14+. Lucie Green, presenter of BBC's Sky at Night and space scientist, shares her passion for the sun and shows that even basic geometry can help us discover more about it. Paul Shepherd, architectural analyst, reveals the surprising uses that architects and engineers find for chains, soap bubbles and Belgian techno music to help them design everything from bridges to football stadiums. Follow us on Twitter @MathsonScreen and email us [email protected] for more info.
Winner will receive one copy of the "Geometry in the Real World" DVD.
Math-U-See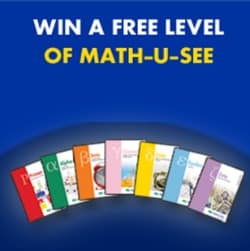 Win a complete (all necessary components, from the books to the manipulatives) level of Math-U-See of your choice (Estimated value: $90 – $120). Math-U-See is a complete, K-12 math curriculum focused on homeschool and small group learning environments that uses manipulatives to illustrate and teach math concepts. Math-U-See is currently offering free, online workshops for new or current Math-U-See customers, ranging from an overall demonstration of the program to specific, educational topics. Learn more about Math-U-See!
Winner will win a complete level of Math-U-See of your choice.
TouchMath
TouchMath is the premier multi-sensory approach to mathematics, making critical math concepts appealing and accessible for students of all abilities and learning styles. The versatile StepNumerals are one of many classroom aids offered by TouchMath –– designed to turn your classroom into a fun and active learning environment. Included are 15, 11″ by 11″ durable foam tiles (numerals 0–9 and math computation symbols and signs) that are sure to make your math lessons an effective and memorable experience!
Winner will receive one Step Numerals manipulative.
Logic
The Critical Thinking Company
For more than 50 years, our award-winning products have helped students of all abilities achieve better grades and higher test scores with highly effective lessons that sharpen the mind as they teach standards-based reading, writing, mathematics, science, and history. Our products are fun, easy to use, and guaranteed to produce better grades and higher test scores. We design critical thinking into reading, writing, math, science and history lessons so students carefully analyze what they are learning. Deeper analysis produces deeper understanding, which results in better grades and higher test scores. Over time, students who practice critical thinking learn to apply it throughout their education and life.
Winner receives your choice of one product from this list.