Back to School Giveaway — Language Arts Curriculum Friday {closed}
(Please be patient as this page loads; there are a lot of giveaways below!)
Looking for a list of all of our sponsors (and a list of all of the daily giveaways)? Go to the sponsor page!
Don't miss a single giveaway! See all of Friday's giveaways here.
Language Arts:
All About Learning Press
Pre-Reading Program (Level Pre-1)
Our All About Reading and All About Spelling programs are complete, comprehensive, and based on the Orton-Gillingham approach and the latest research. We take the struggle out of learning! If you are looking for a multi-sensory approach to teaching reading and spelling that is easy to learn and easy to teach, we can help! Both programs come with lifetime support and a 100% money-back guarantee. Call us today!
Winner receives a $25 gift certificate to All About Learning Press.
a Rafflecopter giveaway

Brave Writer
Ditch the workbooks. Stop forcing language arts into pencils and ruled lines. Get into the big world of word play and language discovery. Brave Writer offers you a reading and writing lifestyle that matches your fantasy homeschool. It works! Start with a poetry teatime. Set a beautiful table, make tea, serve brownies, read poetry. Each day. During Hip Homeschool Moms' giveaway, we're offering you this teapot paired with Brave Writer's Poetry Guide to the lucky winners.
Winner receives one Arrow Poetry Guide and Teapot.
Classical Writing

The aim of the Primers is to help teachers establish and maintain a simple and consistent weekly routine of copywork, narration, nature study, and picture study with primary grade students. We have done all the preparation work for you so that you may spend more time engaged in instruction with your student. There are also exercises each day which most students will be able to complete on their own. The Primers are an invaluable aid to keeping young students on track as they prepare for more challenging academics in years to come.
Winner receives Classical Writing Primer Autumn.
a Rafflecopter giveaway

CM Live
CM Live!, offering live, interactive, online literature courses for homeschooling teens, led by a PhD in Literature, is giving away a FREE Literature or Writing Add-On Intensive Course! $50-$70 Value! (Optional Prize: $50 Discount for one of our British Lit Core Courses!) Come join us as we discuss great "twaddle-free" literature illuminating the Middle Ages or Renaissance Era! Sibling discounts? We got 'em! And, be sure to "like" us today on Facebook at "CM Live"!
Winner receives one Literature or Writing Add-On Intensive Course.
Institute for Excellence in Writing

Whether you are teaching a kindergartener or highschooler, IEW's enjoyable, effective, and simple to use method to teach writing is guaranteed to work! We offer reading, writing, grammar, spelling, literature, poetry, speech, college prep courses and more. Our products are backed by our no-time-limit, 100% money-back guarantee on everything we sell.
Winner receives a $5o gift certificate to Institute for Excellence in Writing.
a Rafflecopter giveaway

Lee Woods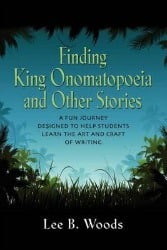 Lee Woods has written a book for students who are tired of the same old grammar rules. "Students can learn how to write now, when they are young and searching. We make learning fun for adults, why not students?" Using humor, goofy characters, suspense, dialogue, and language play, Woods gives students 31 episodes and exercises in planning and mechanics that can satisfy core standards. His approach has earned the praise of teachers and students nationwide.
Winner receives one copy of Finding King Onomatopoeia and Other Stories.
New American Cursive
New American Cursive Penmanship Program Workbook 1 uses a simplified alphabet that is easy to learn and left-hander friendly. It includes a teaching guide with multi-sensory methods, clear starting dots and arrow directions for letters. Lessons also emphasize the importance of correct posture, pencil and paper position. To improve neural connections in the brain, we recommend starting cursive in the first grade. This program produces remarkable results.
Winner will receive one New American Cursive Penmanship Program Workbook 1.
a Rafflecopter giveaway

The Kid Garden
Kid Garden Phonics teaches a parent or teacher how to teach READING and WRITING using MOVEMENT! Suitable for homeschooling and classroom use, especially for kids who can't sit still. Need the tools to help someone learn to read? Kid Garden Phonics is donating all three levels of study! Kid Garden Phonics KIT ONE teaches 33 sounds of 26 letters via movement, creating a muscle memory that links the sound with the visual letter! KIT TWO is sight words, CVC words (consonant-vowel-consonant words), rimes (rhyming endings), and reading actual Readers and a Fun Phonics Game are introduced. KIT THREE is to be used after the student knows simple short vowel words and the sight words taught in KIT TWO. KIT THREE introduces beginning long vowel words and further sight words, with Readers and two Fun Phonics Games.
Winner receives Kits 1, 2, 3 in the format of choice.