Back to School Giveaway – Foreign Language Monday {closed}
(Please be patient as this page loads; there are a lot of giveaways below!)
Looking for a list of all of our sponsors (and a list of all of the daily giveaways)? Go to the sponsor page!
Don't miss a single giveaway! See all of Monday's giveaways here.
Latin:
Classical Academic Press
Song School Latin Book 1 full program (grades 1 or 2): a $97.80 value. Includes: student book, teacher's edition, Latin Monkey Match Flashcard Game, teaching DVD. Did you ever believe that there would be a Latin program that would match the energy, developmental level, and fun-loving nature of your youngest students? Song School Latin does just that. Lessons are peppered with songs, enjoyable vocabulary, illustrations, handwriting practice, stories, games, and engaging activities. Children will love learning Latin! Why Latin? Latin is the basis for all the Romance languages. Learning Latin increases English vocabulary and understanding of grammar, and develops critical thinking skills.
Winner receives Song School Latin Book 1 curriculum.
Compass Classroom
Visual Latin 1 download. Visual Latin is a video-driven Latin homeschool curriculum taught by veteran Latin teacher Dwane Thomas. It's quite unique. Three short videos are paired with three sets of worksheets to guide students from grammar concepts, to practice sentences, to reading in Latin. Kids everywhere love it!
Winner receives Visual Latin 1 download.
Memoria Press
First Form Latin Complete Set. Written by Cheryl Lowe (author of the best-selling Latina Christiana). First Form's grammar-first approach focuses on grammar forms and vocabulary because these are the skills suitable for the grammar stage student. The First Form Series is for students of all ages because all beginners—regardless of age—are in the grammar stage of learning. Syntax (how to use the grammar) and translation are logic and rhetoric stage skills, respectively, and quickly overwhelm the student unless they are introduced at a slow, gentle pace and taught for mastery. First Form is the ideal text for all beginners, grades 5 & up, or is a great follow-up to Latina Christiana I at any age. Now every school and homeschool can have a truly successful Latin program that creates Latin scholars rather than Latin drop-outs.
Winner receives a complete set of First Form Latin.
Spanish:
Spanish Clicks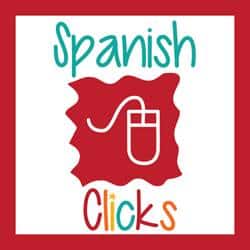 Spanish Clicks Interactive Learning is proud to partner with Hip Homeschool Moms to give away online K-6 Spanish classes. This would be your choice of a synchronous class with live meetings Tuesdays at 6:00 p.m. or Thursdays at 11:00 a.m. CST. Or if the times don't work, you could take the asynchronous class, which is the same exact class, just minus the live meetings. Learn Spanish in a fun, colorful and engaging way with Profe Krista!
Winner receives one semester of online K-6 Spanish course.