Review Detail
4.2
25
0.5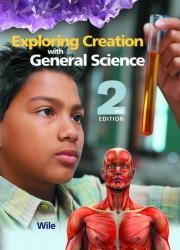 This is a good beginning science text to help prepare your student for more advanced studies in highschool. The new study workbooks may be helpful for some students, but is not necessary. The text contains study guides at the end of each chapter, as well as On Your Own problems and experiments throughout each module. These will adequately prepare the student for the tests, which are contained in a separate booklet.

Overall I really like this book. Secular texts fail to recognize the hand of a creator and Dr. Wile discusses many of these secular viewpoints in an intelligent manner. However, he too has a limited viewpoint writing from a biblical creationist viewpoint. There are many ways to interpret creation in the bible, and this can be an opportunity to discuss this with your children.
Cons
Strong biblical creationist viewpoint
Do you recommend?
generally speaking
Comments